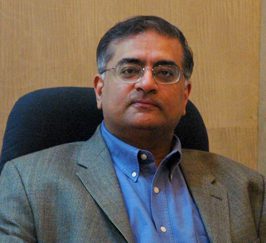 Mayank Trivedi
President/CEO
Mr. Trivedi has over twenty years of proven track record of innovative and high-energy leadership, including establishing, developing, growing, and operating healthcare information technology companies.
As Chief Executive Officer of Indralok Technologies, an IT services company focused on North American Healthcare Software. Mr. Trivedi has assembled an impressive management team with almost two decades of proven experience of delivering quality products and services for North American clients.
Prior to Indralok, Mr. Trivedi was the Founder/Chief Executive Officer of Sysware Healthcare Systems, Inc., the technology and quality-leading provider of laboratory information systems.
Under Mr. Trivedi's leadership, Sysware grew from a small company to a multinational company with over 150 employees in 3 countries. During Mr. Trivedi's tenure, Sysware achieved record growth with sharp focus on quality, efficiency, on-time delivery of software solutions. While focusing on strategic growth markets, spotting market opportunities and ceasing first-mover advantage with fast-track development supported by quality processes.
Mr. Trivedi successfully negotiated a series of strategic partnerships with industry leaders such as Philips Medical Systems in the Netherlands and Eclipsys.
Under his direction, Sysware achieved impressive achievements. Such as developing a new Transfusion Medicine/Blood Inventory system for hospital blood banks within 12 months. Beating the industry average of 4-5 years. This system was awarded US-FDA 510-k clearance, ISO-9001 as well as ISO-13485 certification in Canada on the first submissions.
Sysware was acquired in 2006 by Eclipsys Corporation. After the acquisition, Mr. Trivedi was appointed President of Eclipsys India where he designed and initiated the expansion of Eclipsys's India operation to 700 people. Mr. Trivedi started and headed the Global Delivery Management team for Eclipsys and created disciplined processes for smooth and streamlined multi-shore operation for Eclipsys.